If you were to look in my pantry on any given day, you'd see about six to eight cans of organic chickpeas and a few cans of Old Bay Seasoning. I make sure I always have some on hand because they are versatile, inexpensive, high in plant protein and fiber. One of my favorite recipes to use chickpeas in is this 20 minute Spicy Chickpea wrap that's so simple, nutritious, and delicious.
Ways to Eat Chickpeas
If you're not sure how you'd incorporate chickpeas in your meals, snacks, or recipes here are a few ideas:
Make falafel
Use as a topping on pizza
Blend into a sauce
Toss them in a salad
Make a delicious hummus
Stuff them in a sandwich
Make a wrap
Add them into a curry
Add them into a soup
Make chickpea cookie dough
Health Benefits of Chickpeas
If chickpeas don't sound that appealing to you, I highly recommend you at least give them a few tries in different dishes before crossing them off of your list. I would hate for you to miss out on the multiple health benefits chickpeas can provide.
For example, for those that eat a vegetarian or vegan diet, like me, chickpeas make a great meat replacement. They are a good source of plant protein that provides around 14 grams per cup. They're also full of fiber a nutrient that the majority of American's don't get enough of. One cup of chickpeas contains around 8 grams of fiber about one-third of the recommended daily intake.
The fiber in chickpeas is mainly soluble fiber. Soluble fiber combines with water to form a gel-like substance in your digestive tract. This gel-like substance can help to slow digestion, keep you feeling fuller for longer, and blunt spikes in your blood sugar.
In addition to helping you manage blood sugar, soluble fiber can support your gut health by increasing the healthy bacteria in your gut and they can help keep things moving along, if you know what I mean.
Okay, so enough about that now let's move on to the recipe. This recipe makes the perfect meal when you're not feeling like going all out cooking, but you want something quick, satisfying, and delicious.
If you like spicy, I think you'll love this recipe.
Remember, your gut is the gateway to optimal health, so feed it well.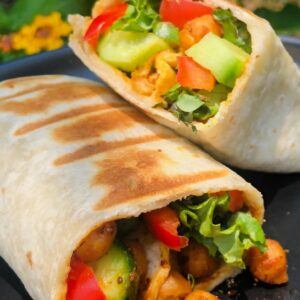 Spicy Chickpea Wrap
20 minute Chickpea Wraps made with simple, nutrient rich ingredients. Seasoned with Old Bay and filled with crunchy vegetables and a delicious homemade thousand island dressing. They're so easy to make and so delicious.
Ingredients
1

15oz.

chickpeas, canned

drained, rinsed, and dried

2-3

tbsp

Old Bay Seasoning

1

tbsp

avocado oil

1

small

cucumber, diced

1/2

medium

red bell pepper, diced

1/2

small

red onion

1

small

avocado, diced

peeled, pitted, diced

4

pieces

green leaf lettuce

1/4

cup

homemade thousand island dressing

see notes

2

large

tortillas
Instructions
Preheat oven to 350 degrees. Line small baking pan with parchment paper. (Optional) You can skip the oven and sprinkle Old Bay Seasoning on rinsed chickpeas.

Add chickpeas to a small bowl, add 1 Tbsp avocado oil, add in Old Bay Seasoning. Toss chickpeas in mixture to coat. Spread chickpeas on baking pan and heat in oven for 10 minutes.

While chickpeas are roasting, make thousand island dressing. See notes for link to the recipe. Optional (can use your favorite ready made dressing to save time)

Remove chickpeas from oven.

Lay tortilla flat on plate. Add lettuce, chickpeas, cucumber, avocado, red onion, and red bell pepper. Top with 1-2 tbsp of vegan thousand island dressing. Fold and grill in a grill pan on each side until desired crispness.

Remove from grill pan and enjoy!