Indulge in the warm, comforting flavors of this delicious vegan cinnamon streusel coffee cake recipe. Made with plant-based ingredients, this coffee cake features a moist and tender crumb, perfectly spiced with cinnamon and other aromatic flavors. The crunchy streusel topping adds a delightful textural contrast that will keep you coming back for more. Whether you're starting your day with a cup of coffee or tea, hosting a brunch with friends, or treating yourself to a comforting afternoon snack, this cinnamon streusel coffee cake is the perfect choice.
Not only is this recipe delicious, but it is also versatile and customizable. It can be easily adapted to suit different nutritional needs or personal preferences, such as making it gluten-free, or adding your favorite fruit or nuts.
With its classic and comforting associations, this cinnamon streusel coffee cake is not just a delicious treat, but a moment of indulgence and relaxation. Make it for your loved ones, impress your guests, or treat yourself to a moment of pure bliss. Once you try this cinnamon coffee cake, you'll be making it again and again. Give this recipe a try and treat yourself to a slice of heavenly delight.
Ingredients You'll Need:
Non-dairy milk – An unsweetened plant based milk works great with this recipe. By mixing it with a tablespoon of vinegar, it will help the cake rise since there are no eggs in this recipe.
Sugar– While you can use organic cane sugar for this recipe. I used maple sugar for a richer flavor. A light brown sugar is perfect for the cinnamon for making the cinnamon sugar filling and vegan streusel.
Oil– It's best to use a neutral light tasting oil. I personally like using avocado oil. You can use melted butter or coconut oil, if you like a touch of coco-nutty flavor in the cake.
Flour– I recommend unbleached all-purpose flour for a light and fluffy texture. Using whole wheat flour will give the cake a more dense texture.
Cinnamon– This is the key ingredient in this recipe. I prefer using Ceylon cinnamon over Cassia, However, Cassia is more widely available in most grocery stores. Don't skimp on the cinnamon. Adjust amounts to your liking.
Ideas for Serving
Coffee cakes can be enjoyed in various settings, making them a versatile treat. They are perfect for breakfast, brunch, afternoon tea, or as a dessert. They can be served warm or at room temperature, making them convenient for gatherings or as a treat to enjoy with a cup of coffee or tea.
How to Store
Store cake in an air-tight container at room temperature for 2-3 days. You can store in the refrigerator for up to 7 days.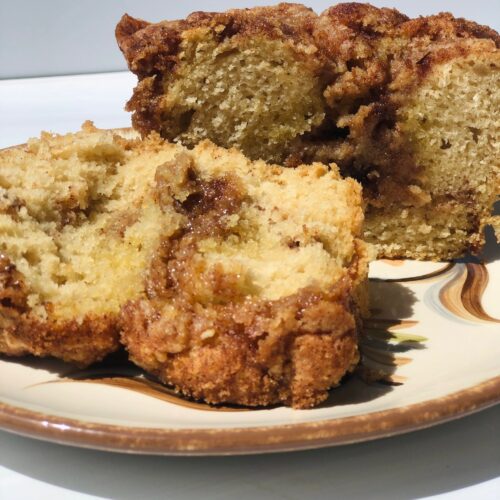 Cinnamon Streusel Coffee Cake
Indulge in the perfect balance of warmth and sweetness with this vegan cinnamon streusel coffee cake. The moist cake is made with wholesome plant-based ingredients, making it suitable for those who follow a vegan diet. The cake is generously spiced with fragrant cinnamon, infusing every bite with its comforting aroma.
The highlight of this coffee cake is the delicious crunchy streusel topping. Made with a combination of vegan butter, brown sugar, and a dash of cinnamon, it creates a crumbly and crispy texture that adds an extra layer of decadence to the cake.
Whether you enjoy it as a breakfast treat with your morning cup of coffee or as a dessert for a special occasion, this vegan cinnamon streusel coffee cake is sure to please.
Ingredients
1

cup

unsweetened almond milk

or other non-dairy milk

1

Tbsp

apple cider vinegar

1/2

cup

maple sugar

or sugar of choice

1/3

cup

avocado oil

2

tsp

vanilla extract

2

cups

unbleached all-purpose flour

1

Tbsp

baking powder

1/2

tsp

baking soda

1/4

tsp

salt
Cinnamon Sugar Filling
1/4

cup

light brown sugar, organic

1

Tbsp

cinnamon
Streusel Topping
1/4

cup

unbleached all-purpose flour

1/4

cup

vegan butter

1/4

cup

light brown sugar, organic

1

Tbsp

cinnamon
Instructions
Preheat oven to 350 degrees.

in a small bowl, combine almond milk with apple cider vinegar. Stir to combine then set aside.

In a mixing bowl, blend together flour, baking powder, baking soda, and salt.

In a separate bowl, add maple sugar, oil, vanilla extract and milk mixture. Stir until well combine. Add the wet ingredients to the dry ingredients and stir until dough forms.

Add parchment paper or grease 9×5 loaf pan. Spread half the dough into the bottom of pan. Sprinkle on brown sugar and cinnamon mixture. Then add the remaining dough mixture to pan.

To make streusel, use a separate bowl and add flour, brown sugar, and cinnamon. Cut in the butter to the mixture. Once combined, sprinkle evenly and press into top of dough.

Bake for 40-45 minutes or until when toothpick is inserted and comes out clean.

Remove from oven and let cool before slicing.