Are you craving a delicious Asian-inspired dish that can be on your table in no time? If so, you'll love this flavorful 20-minute asian stir-fry recipe. This quick and easy dish features a nutrient-rich combination of tender noodles, crisp colorful vegetables, and a savory sauce that your taste buds will love. Get ready to impress your family and friends with this easy-to-make, restaurant-quality meal that is sure to become a favorite in your recipe collection.
Ingredients You'll Need:
RIce Noodles
Broccoli Florets
Red Bel Pepper
Red Onions (Optional)
Green Onions
Garlic
Edamame ( or your favorite protein)
White Button Mushrooms
Soy Sauce
Fresh ginger
Cornstarc
Sesame Oil
Maple Syrup
Light Brown Sugar, organic
Why You'll Love This Recipe:
In just 20 minutes, you will have created a sensational stir-fry bursting with flavors and textures. The tender rice noodles, crisp vegetables, and savory sauce come together to deliver a takeout experience at a homemade price. Whether you're needing a quick weeknight meal or hosting a gathering, this 20 minute Asian stir fry recipe is one everyone will love.
Let's get cooking!
Feel free to customize this recipe by swapping out the veggies for your personal favorites, or choose a different protein that suits your taste buds. The beauty of this dish lies in its flexibility, allowing you to tailor it to your preferences and experiment with various ingredient combinations.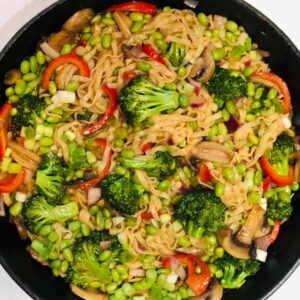 20 Minute Asian Stir Fry
Try this flavorful 20 minute Asian stir fry recipe for a quick and easy lunch or dinner. It's packed with colorful, fresh, nutrient rich vegetables and protein-rich edamame making it a nourishing and satisfying meal.
Ingredients
Sauce
1

cup

water

1/4

cup

light brown sugar

organic

1/2

cup

soy sauce, low sodium

1

tsp

maple syrup

1

tsp

sesame oil

1

tbsp

fresh garlic, minced

1/2

tsp

fresh ginger, minced, optional
To thicken sauce:
2

tbsp

cornstarch

1/4

cup

cold water
Stir Fry
6

ounces

rice noodles, uncooked

1

tbsp

sesame oil

4

stalks

green onions, chopped

2

cups

broccoli florets

1

cup

red bell peppers, sliced

3

cloves

fresh garlic, minced

8

ounces

white button mushrooms, sliced

1/2

cup

red onion, diced

12

ounce

edamame, shelled

frozen, organic
Instructions
Stir Fry
In a wok or skillet, heat sesame oil. Add in broccoli, red bell pepper, green onions, garlic, mushrooms, and red onion. Stir fry for about 5 minutes or until tender.

While vegetables are cooking, cook the noodles and edamame according to package directions. Then set aside.
Sauce
In a medium saucepan whisk together water, sesame oil, brown sugar, soy sauce, maple syrup, ginger and garlic.

In a small bowl, whisk together cornstarch and cold water then set aside.

Bring ingredients in saucepan to a boil then simmer.

Add in the cornstarch/water mixture, whisk slowly and continuously to combine. Let simmer until sauce starts to thicken.

Remove from heat when desired thickness is reached. Set aside.

Combine the cooked noodles and edamame to skillet with vegetables. Pour over sauce and toss well until evenly coated.